Engr. Simbi Kesiye Wabote – Executive Secretary.
Engr. Simbi K. Wabote was appointed as the Executive Secretary Nigerian Content Development and Monitoring Board (NCDMB) by President Muhammadu Buhari (GCFR) on the 29th of September 2016. He was reappointed for a 2nd tenure by Mr. President on 25th September 2020, after a sterling performance in his first term of office.
Prior to his appointment, he was an Executive Director of Shell Petroleum Development Company (SPDC) Nigeria Limited and General Manager Business and Government Relations for Shell Companies in Nigeria (SCiN).
He joined Shell in September 1991 as an Oil and Gas Engineer after a short stint with the Banking industry in Nigeria. He served Shell in various senior positions within Nigeria and in several countries in Africa, Europe, North America, Middle East, Asia and new frontier countries in Engineering, Local Content Development, Contracting & Procurement, Government Relations, and Community Affairs.
In his first four years as the Executive Secretary, Engr. Wabote reinvigorated the operations of the NCDMB and developed the Nigerian Content 10-Year Roadmap to grow Nigerian Content to 70 percent by 2027.  He spearheaded the rapid development of the Nigerian Oil and Gas Park in Odukpani, Cross Rivers State and Emeyal-1, Bayelsa, State and the launch of the $200m (USD) Nigerian Content Intervention Fund (NCI Fund) to provide low cost and accessible credit to service companies. He spearheaded the increase of the Fund to US $350m to meet increasing demand for credit by oil and gas companies.
He brought his project management skills into the construction of the Board's new headquarters building complex, leading to the completion and commissioning of the 17-storey office building, 1,000 seater auditorium, and multi-level car park under five years.
He also pioneered the development and deployment of the Service Level Agreements (SLA) between the Board and the Nigeria LNG, Oil Producers Trade Section (OPTS) and Indigenous Petroleum Producers Group (IPPG), which has reduced the tendering cycle time to six months and fast tracks development of new projects.
Under his watch, NCDMB catalysed the successful integration of one of the largest Floating Production Storage and Offloading (FPSO) in-country at the SHI-MCI yard in the LADOL Free Trade Zone and facilitated in-country integration of six modules on the Egina FPSO, the first time in the entire Gulf of Guinea.
He facilitated speedy approvals for the US$12 NLNG Train 7 project and the signing of the contract in the middle of COVID-19 pandemic, to create 12,000 jobs and domicile 55 percent of the project incountry.
Engr. Wabote also introduced key signature events into the oil and gas industry calendar such as the bi-annual Nigerian Oil and Gas Opportunity Fair (NOGOF) and the Nigerian Research and Development Fair (R&D Fair), to showcase oil industry's opportunities for investment and galvanize research capabilities respectively. He has also used the annual Practical Nigeria Content conference and exhibition to set agenda for the industry.
He also championed NCDMB's equity investment in four modular refineries- Waltersmith's 5000 barrels per day facility, Azikel Petroleum's 12,000barrels per day Hydroskimming Modular refinery, Atlantic International Refinery's 2000 barrels plants and Duport Midstream's 2,500bpd modular refinery.
He has spearheaded other strategic capacity development initiatives in the hydrocarbon value-chain in line with the Board's vision to serve as a catalyst for the industrialisation of the Nigerian oil and gas sector. Some of these included the Board's investment in Brass Fertilizer, NCDMB Gas Hub at Polaku and Rungas' composite gas cylinder manufacturing facility.
He also championed the Board's Enterprise development programs, notably the Project 100, Nigerian Oil and Gas Technology (NOGTECH) Hackathon and the Science and Technology Innovation Challenge (STIC).
Engr. Wabote holds an MSc from Leeds Metropolitan University and is a Graduate of Civil Engineering from Rivers State University of Science and Technology Port Harcourt as well as a graduate of INSEAD Group Leadership Program. He has very sound technical and business competencies with proficient skills in Engineering, Project Management, Local Content Strategic Development, Human Capacity Building, Government Relations, and Stakeholders Management.
He is also a Fellow of the Nigerian Society of Engineers and a COREN Registered engineer and a member Institute of Civil Engineers London.
Born 2nd February, 1966, Engr. Wabote is a Nigerian from Bayelsa State and is married to Sotonye with three lovely daughters.
Engr. Simbi Wabote (fNSE)
Mr. Daziba Patrick Obah – Director Planning, Research & Statistics
An indigene of Bayelsa state, Mr. Daziba Patrick Obah holds a Masters Degree and a Bachelor of Science Degree in Industrial Chemistry from the University of Port Harcourt. He started his working career in the private sector with Horizon Fibres (Nig.) Ltd where he worked as a Chemical Laboratory Supervisor.
He then moved on to become a Lecturer in the Department of Integrated Science with the Rivers State College of Education, now Ignatius Ajuru University of Education, Port Harcourt, Rivers State.
In 2012, Mr. Daziba Patrick Obah was appointed the Director of Planning, Research and Statistics (PRS) of Nigerian Content Development & Monitoring Board, where he was saddled with the primary responsibility of directing and coordinating activities related to institutional planning, research and telecommunication system that supports the realization of the mission and vision of the Board.
As Director PRS, he led the team that developed the concept of Nigeria Oil and Gas Park Scheme (NOGaPS), superintended over the establishment and Go Live of the Nigeria Oil and Gas Industry Content Development (NOGICD) Joint Qualification System (JQS), and spearheaded an inter-agency (NCDMB/FMI) collaborative and seamless Expatriate Quota administration process for the Oil and Gas industry. Mr. Patrick is also leading the effort to set up Research and Development Centres of Excellence, in line with the thrust of the Nigerian content philosophy of domiciling R&D activities within Nigeria.
On February 18th 2016, Mr. Obah was appointed Acting Executive Secretary, NCDMB, a position he held until September 26th 2016.
Director, Corporate Services
Mr. Akintunde Adelana – Director, Monitoring and Evaluation
Mr. Akintunde Adelana is a Management graduate of the University of Benin, Nigeria. He is a highly skilled, knowledgeable, reliable, and versatile professional with over 25 years' experience in Supply Chain Management and 22 years in the oil and gas industry. He has wide-ranging expertise in specification, design and implementation of business solutions, logistics and procurement, with abundant knowledge of the local suppliers' market and Nigerian Content Development. He has been involved in the development of procurement business plans and strategy and has proven ability in the management in a broad range of procurement areas including Tender Management, Cost Saving Initiatives, Sourcing & Procurement, Competitive Bidding, Claim analysis and management.
Director, Monitoring and Evaluation
Mr. Isaac Yalah- Director Finance & Personnel Management
holds a Bachelor's degree in Chemistry and Education (1st Class Honors) from the University of Ibadan and an MBA in Financial Management from the Federal University of Technology, Owerri; a General Management Certificate from IMD Business School in Lausanne, Switzerland, a certificate in Negotiation from Harvard Law School and Oxford University respectively.
A fellow of the Chartered Institute of Financial & Investment Analyst of Nigeria and a Certified Change Manager, CICM, he has over 25 years of private & public sector working experience which includes multi-varied areas of banking operations where he established himself in Retail & Public sector banking, Wealth Creation/Portfolio Management, Strategic and Investment Management.
Prior to his appointment, Mr. Yalah was the General Manager, Investment and Treasury Management in the Nigerian Social Insurance Trust Fund (NSITF). Other previous work experience includes; in 2009-2011, the Bayelsa State Governor appointed him as Secretary of the Governor's Technical Team, and he was an Assistant General Manager (AGM) with United Bank for Africa (UBA) Plc.
He has attended several courses locally and internationally, and belongs to many Professional and Social organisations some of which include: Member of the Oxford Business Alumni (OBA), Member, IMD Alumni, Lausanne, Switzerland, Member, IABFM – International Academy of Business and Financial Management, Associate Member, Chartered Institute of Bankers of Nigeria (CIBN), Member, Amnesty International, The Kennedy Center, Washington DC, USA and Member, National Geographic Society, USA.
Mr. Yalah's personal interest and hobbies include Astronomy & Astrophysics, Music, Travelling, Reading and Writing.
Director, Finance and Personnel Management
Director Legal Services 
NCDMB, is a highly experienced Corporate Lawyer with over 30 years cognate experience in Corporate & Commercial law, Property Law and Oil & Gas Law with specialization in Nigerian Content Law, Policy and Practice.
He joined the services of NCDMB in 2011 as a Deputy Manager Legal and pioneered the establishment of the Legal Services of the Board before he was joined by other staff.  As the Deputy Manager and later promoted to Manager, Legal Services, Umar has been involved in providing Legal advice on all aspects of the implementation and interpretation of the Nigerian Oil and Gas Industry Content Development (NOGICD) Act 2010. His transactional experience include provision of advisory services on the structuring of the Nigerian Content Development Fund (NCDF) and all its loan/partial guaranty transactions; NCDMB/BOI Nigerian Content Support Fund structuring; acquisition and documentation of Nigerian Oil and Gas Parks Scheme lands; initiation and start-up of the NCDMB Ministerial Regulations; preparation of Guidelines; litigation management; general legal advice; coaching and mentoring, among others.
In September 2017, Barrister Umar was seconded to serve as the General Counsel/Secretary Legal Services of the Federal Capital Territory (FCT's equivalent of Attorney General and Commissioner for Justice). On this role, Umar functioned as the Chief Legal Officer of the FCTA, leading the Solicitor General, 5 Directors and over 100 lawyers and other support staff in providing comprehensive legal cover and support to the Honourable Minister of the FCT and all the organs of the FCT. As a member/Secretary of the FCT EXCO, Umar was exposed to policy formulation and leadership issues at the highest level of FCT Governance and the complexities of managing a fast-growing city like the FCT. Apart from pioneering innovative changes and restructuring of the Legal Services Secretariat for which he received written commendation from the Honourable Minister of Justice, Mallam Mohammed Musa Bello, Umar has also been involved in managing complex litigations pending in the courts and through other Alternative Dispute Mechanisms where he contributed immensely in resolving intractable conflicts as well as the drafting, amendment and review of laws, regulations, contracts and policies on a routine basis.
Upon completion of his secondment to the FCT in May 2019, Mr Umar was promoted to General Manger, Legal Service, NCDMB before his appointment as Acting Coordinator Legal Services and later Director Legal Services on 1st May 2021.
Before Joining NCDMB, Mr Umar had worked as Principal Partner, Capital Chambers Solicitors, Abuja, Chief Legal Officer, Nigerian National Petroleum Corporation and Resident Legal Consultant, Legal Department, Mobil Producing Nigeria Unlimited, Lagos among others
Barr Umar is a member of the Body of Benchers, the body with the highest distinction in the legal profession. He is also a member of several professional associations including the Nigerian Bar Association, the International Bar Association and the Association of International Petroleum Negotiators AIPN.
Engr. Abayomi Bamidele studied Mechanical Engineering at University of Nigeria, Nsukka and graduated in 1994.
His career and vast experience span over 23 years in the Manufacturing and Oil & Gas Industry. Between 1995 and 1998, Mr. Bamidele headed the Maintenance Department of a steel manufacturing outfit in Aba, Abia State with responsibility for repair and maintenance of heavy-duty metal forming/pressing machines, wire drawing machines, machine tools, power generators, air compressors, etc. He earned accolades for his ability to keep the factory machines and equipment functional. He led the team responsible for fabrication of machine parts using metal forming processes: welding, turning, milling, shaping, heat treatment etc.
He joined Shell Petroleum Development Company (SPDC) in 1999 at the completion of a training program in 1998. He has served Shell in various positions within and outside the country with roles in Commissioning, Operations, Maintenance, Process Engineering, Project Engineering, and Business & Government Relations.
He was part of the project team responsible for delivery of various domestic gas projects in the western Niger Delta including 1-year assignment in London on engineering design/reviews and tender packaging.
He was posted to Brunei Shell Petroleum (BSP) in South East Asia for 5 years (2009-2014) where he led delivery of several projects including oil production facility upgrade/expansion at 4 locations, installation of 15km RTP pipeline, and schedule-driven hook-up of oil producing and water injection wells. He also led the Field Engineering teams for brown-field modification/changes, Quick Response (SWAT) squad, and WRFM Projects for BSP onshore Assets covering 6 flow stations, 1 gas gathering/processing plant, 1 oil terminal, and 1 refinery.
He moved to Lagos in 2014 to join Shell Business & Government Relations function and led a team of Business Advisers in the JV Business Relations, responsible for securing partners approval for budgets, cost performance recovery, and contacts. He is well known for is roles in JV governance, corporate correspondence, scenario planning, change management, business communication, issues and risk management, and team building. He initially joined the NCDMB on Leave of Absence and became a fulltime employee of the Board in September 2020.
Director, Project Certification & Authorization
Dr. Amaijaan Bertram Ikuru is a graduate of Civil Engineering from the University of Nigeria Nsukka. He bagged his Master of Business Administration (MBA) and PhD in Management (Business Policy and Strategic Management) from the Rivers State University of Science and Technology, Port Harcourt.
He joined the Board from Shell Petroleum Development Company of Nigeria (SPDC) in July 2018, first on Leave of Absence, having garnered 22 years work experience with SPDC. He eventually became a fulltime employee of the Board in September 2020.
Prior to his engagement with the Board, Dr. Ikuru was the Manager, Programme Management – Fit for the Future Programme in SPDC. He also held other Management positions in the course of his career with SPDC, including Manager, Upstream International Cost Ambition Programme, Manager, Community Content Development and Head Corporate Affairs Planning and Strategy.
At SPDC he won the following awards/commendations: Award of Excellence from the Royal Dutch Shell CEO; Special recognition award for "exceptional performance in the Planning team delivery," SPDC – 2004 and Excellence in Social Performance for the Shell Contractor's Funding Scheme.
Dr. Ikuru has in-depth knowledge and experience in strategy formulation, organizational cost efficiency, stakeholder's management, contract funding and human capital development. He has also initiated numerous laudable programmes that have promoted indigenous capacity and capability in the Oil and Gas Industry.
Ikuru is a member of the Nigerian Society of Engineers and a seasoned writer, who has written several publications and conference papers.
Director, Capacity Building
Mr. Abdulmalik Halilu
 is the General Manager, Research & Statistics. A policy development expert, he holds a Masters Degree in Development Studies, a Post Graduate Diploma in Management Science and a Bachelor of Technology Degree in Agricultural Technology. Prior to joining NCDMB, Mr. Abdulmalik worked for many years in Accenture- a global management consulting, technology and outsourcing firm where he was involved in many transformation projects including the development of Nigeria vision 20:2020 economic transformation blueprint, NNPC transformation project "PACE", National biofuels policy & renewable energy program and roll out of Unique Taxpayer Identification Number (UTIN) amongst others.
Mr. Halilu joined the NCDMB with vast experience in oil and gas, development banking, utilities, agriculture, manufacturing, renewable energy, supply chain management and project management. He was the pioneer Head of Strategy & Policy Development Department in NCDMB and played key roles in the conceptualization of key initiatives of the Board such as the Nigerian Oil and Gas Park Scheme (NOGaPS), Equipment Component Manufacturing Initiative (ECMI), Marine Vessel Strategy, Nigerian Content Intervention Fund (NCI Fund) etc.
Abdulmalik is a member of the Nigerian Institute of Management, Project Management Institute, USA and International Facility Management Association. A change management professional and certified project management professional, he has been a teaching instructor at the Center for Professional Development St. Charles, Chicago, USA. He is married with children.
Director, Research and Statistics
Mr. Obinna Ofili, the General Manager, Nigerian Content Development Fund & Treasury Management graduated from the Federal Polytechnic Idah, where he earned a Higher National Diploma in Business Administration & Management. He also holds a Bachelor's degree in Banking & Finance from the University of Port Harcourt and a Masters in Banking & Finance from the University of Ibadan. In addition, Mr. Ofili is a part-time Doctoral candidate in Financial Management and a Fellow of the Institute of Chartered Accountants of Nigeria (ICAN) and a Project Management professional.
He has worked as a lecturer, consultant, analyst and banker, spanning four different banks.
At the NCDMB, Mr. Ofili has performed functions relating to various aspects of Finance & Accounts, including seamless handling of Treasury operations, the Nigerian Content Development Fund (NCDF) as well as improving the overall efficiency of the Division.
He was instrumental to streamlining the financial operations of the Board and devising strategies that optimized the Board's finances. He handled the transition of the Board's accounts to GIFMIS and Treasury Single Account (TSA), which ensured that the Board's financial operations were never disrupted.
Mr. Ofili has also served in various Committees in the Board, including Review of 1% Remittances, Operating Model for the two Special Purpose Vehicles, Review of Payment Guidelines, Accounting Manual, Audit Manual, among others. He also oversees the Secretariat of the NCDF Advisory Committee.
A lover of football, cricket and analytical discourse, Mr. Ofili is married with three children.
General Manager, Nigerian Content Development Fund and Treasury Management (NCDF &TM)
Dr. Ginah O. Ginah
holds a B.sc (Hons) degree in Chemical Engineering from the University of Ife, an MBA (General Management) from Rivers State University of Science and Technology and PhD from the University of Port-Harcourt in the field of Organizational Behaviour.
Dr. Ginah started his career as a lecturer at the Anambra State University of Science and Technology in 1985 and has held several managerial positions in firms like Indorama, Eleme Petrochemicals Company of Nigeria Ltd and the National Fertilizer Company of Nigeria Ltd.
Dr. Ginah is a registered member of COREN and a member of the Nigerian Society of Engineers (NSE). He has successfully undertaken several federal government and state government assignments.
Dr. Ginah is presently the General Manager, Zonal Coordination and Board Projects Division of the Board. He is married to Mrs. Etiemudo Ginah and is blessed with four (4) children.
Ag. General Manager, Zonal Coordination and Corporate Communications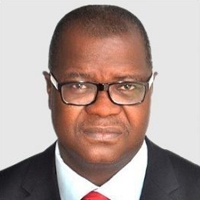 Engr. Paul Zuhumben is the General Manager, Projects and Operations at the Nigerian Content Development and Monitoring Board (NCDMB) and an Electrical Engineer by qualification.
He worked at several companies after graduation in 1987 before joining the Nigerian National Petroleum Corporation (NNPC) in 1991 where he was deployed to the company's engineering subsidiary, National Engineering and Technical Company (NETCO) and rose to become the company's Lead Electrical Engineer. In 2005 he was transferred to the Nigerian Content Division of NNPC where he worked with the Planning Department as one of the pioneer management Staff.
He played an integral part in the development and implementation of Nigerian Content Directives at the Nigerian Content Division of NNPC until the enactment of the NOGICD Act, 2010 and subsequent establishment of the Nigerian Content Development and Monitoring Board (NCDMB)
He continued to work at the NCDMB's Monitoring and Evaluation Directorate as Manager IOCs until his deployment to Projects and Operations Division as General Manager.
He has vast experience in the oil and gas industry engaging in several activities such as Electrical Power Engineering & System Design, Project Management, staff development and mentoring.
He is a registered Engineer with the Council for the Regulation of Engineering in Nigeria (COREN) and a member of Nigerian Society of Engineers (MNSE). He is also a member of the Institution of Engineering and Technology, UK (MIET) and the Nigerian Institute of Management (MNIM).
General Manager, Project Certifications and Authorization
Ag. General Manager, Facilities & Logistics
Ag. General Manager, Conference Hotel Project
Ag. General Manager, Human Resources