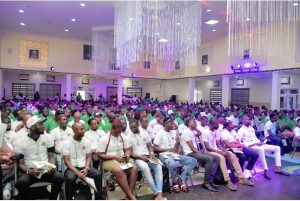 500 youths from Bayelsa State have completed their training in mobile telephony repairs, hardware, software andentrepreneurship development sponsored under the Nigerian Content Development and Monitoring Board (NCDMB) Youth Empowerment Programme.
As part of their exit package, the trainees were presented with starter packs that would enable them to start their trade. In addition, the NCDMB rented shops for them for one year and registered them as members of cooperative societies.
The close out programme was held in Yenagoa recently and is the fifth in the series, after similar interventions in Kano, Kaduna, Cross River and Yobe States which had impacted over 3000 youths.

Speaking at the event, the Executive Secretary of NCDMB, Engr. Simbi Kesiye Wabote noted that human capital development is a key area of focus for the Board and is geared to create employment, generate wealth and engage the nation's teeming youths. He added that technology, skill acquisition in trades and agriculture have been identified as quick-to-market and high-impact economic sectors.
As part of the mobile telephony training, applicants were categorized based on specialization and experience and gender inclusiveness in line with global best practices.
Wabote expressed hope the trainees had acquired capacities and capabilities to trouble shoot issues, proffer solutions, assemble mobile phones and develop software applications that are currently largely import dependent.
The Executive Secretary was represented at the event by theDeputy Manager, Zonal Coordination, NCDMB, Mr. Joseph Adebayor and he congratulated the participants for their dedication and urged them to become super business owners and to positively use their skills to make a living and serve their communities.
He assured that Board would continue to collaborate with the Bayelsa ICT hub to develop programmes that would advance qualified members in software development, while alsoacknowledging the support received from the National Directorate of Employment (NDE) in the delivery of the programme.
He further advised young Nigerians to register on the Nigerian Oil and Gas Industry Joint Qualification System (NOGICJQS) for human capacity building interventions and employment opportunities in the oil and gas industry.
Representative of the Bayelsa State Government, Honorable Commissioner for Labour, Employment and Productivity, Hon. Stanley Braboke appreciated the NCDMB for the unending support to the people of Bayelsa State. He hinted that NCDMB has invested immensely on infrastructure and projects that will bring investments and create more employment opportunities to the state.