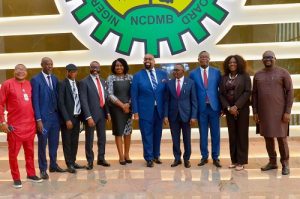 The 30th President of the Nigerian Bar Association (NBA), Barr. Olumide Akpata recently visited the headquarters of the Nigerian Content Development and Monitoring Board (NCDMB).
In his remarks during the visit, the President congratulated the Board for the giant strides it had recorded in promoting the Local Content Act in the oil and gas industry and the impact in the wider Nigerian economy, stressing that "Local Content must be replicated in other sectors of the economy."
He also commended the Board for the continuous support it had extended to the association and the NBA Section on Business Law (NBA-SBL) as well as the Judiciary. He further solicited the Board's support and collaboration towards the Association's Institute of Continuing Legal Education, which is aimed at improving the capacity of Nigerian Lawyers.
While commending the Board, Akpata said, "I am pleased to have been part of Local Content Journey from inception till date."
Welcoming the NBA President to the Board, the Executive Secretary, Engr. Simbi Kesiye Wabote stated that Local Content is a strategic national economic agenda, adding that one of the enablers of the Board's 10-year strategic roadmap is the engagement of key stakeholders, agencies and sectors of the economy.
The Executive Secretary who was represented during the visit by the Head, Legal Services Directorate, Barr. Naboth Onyesoh appreciated the NBA delegation for the visit and assured that the Board will continue to collaborate and support the Association, adding that the NBA is a critical stakeholder of the Board.
He hinted that Section 51 of the Nigerian Oil and Gas Industry Content Development (NOGICD) Act of 2010 underlined the importance of legal services to the Local Content sector. He further reiterated that the Board has organized workshops and lectures for judges and the judiciary to intimate them on the essence of the Act.
Barr. Onyesoh urged members of the NBA to take a deeper interest in the oil and gas sector which is the mainstay of the nation's economy, especially now that western nations are making concerted efforts to shift the world's dependency from fossil fuels to renewable energy sources.
The NBA president was accompanied on the visit by some national executive officers of the association and officials of the Yenagoa and Port Harcourt branches of the association.