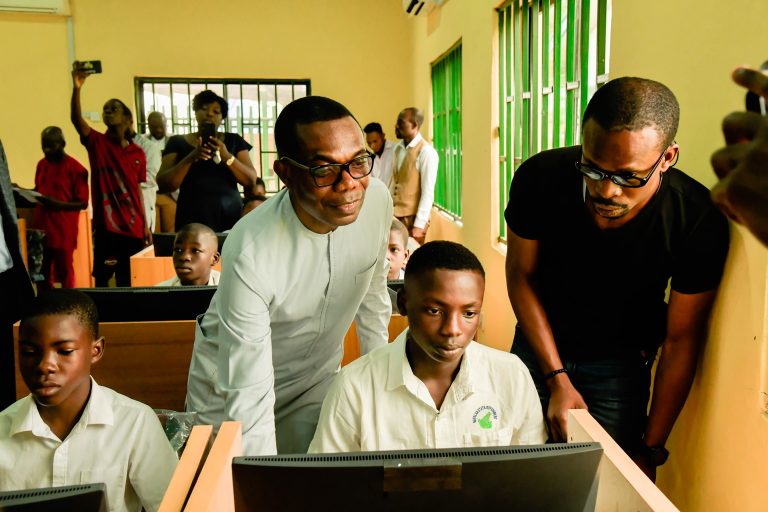 The Nigerian Content Development and Monitoring Board (NCDMB) on Friday commissioned an Information and Communication Technology Centre and E-learning facility at Opokuma Grammar School, Bayalsa State.
The centre is equipped with desktop computers, projectors, printer, photocopier and as well as an e-library and the entire facility is powered by a 30KVA generating set, with a 20KVA backup solar inverter to ensure stable and constant power supply.
The facility also has a computer instructor, internet facility and one-year maintenance contract.
Speaking at the commissioning ceremony, the Executive Secretary, NCDMB, Engr. Simbi Kesiye Wabote explained that the donation of the ICT center is in line with the Board's mandate
of building local participation and human and material capacities in the oil and gas industry.
The Executive Secretary who was represented by the Director, Finance and Personnel Management, Mr. Isaac Yalah enjoined stakeholders in the community to ensure the full utilization and protection of the facility. He charged the management and staff of the school to encourage the students to use the e-learning tools provided in the facility to boost their knowledge and potentialities.
In his remarks, the General Manager, Corporate Communications and Zonal Coordination, Engr. Ginah O. Ginah hinted that the facility would assist students to acquire requisite knowledge and skills required in the oil and gas industry. He added that the center will also serve as e-learning center to enable students engage in research and development.
In his goodwill message, the Honorable Member Bayelsa State House of Assembly representing Kolokuma/Opokuma Local Government Area (KOLGA), Hon. Wisdom Fafi appreciated the Board for donating the ICT centre and assured that the Bayelsa State Government will continue to support the Board in its efforts to attract oil and gas investment opportunities to the state.
Also speaking, the King of Opokuma Clan, His Royal Highness, King Collins Aranka, Opu-Okun (v) lauded the Board's commitment to reach out to local communities in the state, noting that the facility will not only serve the studentsbut will also help youths in the community to acquire computer literacy.
The Principal, Opokuma Grammar School, Mr. FemoneDaniel thanked the Board for siting the ICT Centre in the school and promised to ensure the safety and properutilization of the facility by students and teachers in the school.