Towards achieving quick resolutions of strategic and operational issues and ensuring speedy project execution, the Nigerian Content Development and Monitoring Board (NCDMB) and the Nigeria LNG Limited on Tuesday set up a technical working group (TWG) comprising representatives of the two organizations.
The working group is a product of the courtesy visit of the NLNG Executive Management to the Executive Secretary of NCDMB at the Board's headquarters in Yenagoa, in August 2022, where an agreement was reached to set up a small group that would allow for in-person discussions and resolution of issues, cutting out bureaucracy, improving the efficiency of decision making, approvals and Nigerian content development for NLNG.
The technical working group which met for the first time in Lagos has the General Manager, Project Certification and Authorization Division (PCAD), NCDMB, Engr. Paul Zuhumben as the Chairman, with the General Manager, External Relations, and Sustainable Development (ER), NLNG, Mr. Andy Odeh as Co-Chairman, with three additional members from both organizations.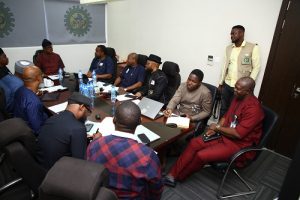 In his comments at the meeting, Zuhumben explained that the technical working group would not take over the work of different NCDMB directorates, divisions, and departments, but would only focus on emerging issues that will collectively improve development and compliance with Nigerian Content in the oil and gas industry.
He added that the Board had always acted beyond its role as a regulator and fostered collaborations with different stakeholders within and outside the Nigerian oil and gas industry, to ensure better working relationships and a more productive oil and gas industry and economy.
Some of the objectives of the TWG are to resolve issues or delays arising from Nigerian Content compliance on contracts and projects that have been unable to reach a resolution at the operational level, reduce the frequency of letters seeking or providing clarifications on Nigerian content issues, and provide a forum for mutual understanding of issues and concerns.
Other objectives are to review current and emerging Nigerian Content issues on NLNG contracts and projects to achieve mutually beneficial resolutions. The group would also devise strategies to address recurring challenges within a specific timeline in line with NCDMB-NLNG Business-to-Business Service Level Agreement (SLA).
Both parties also agreed to share best practices, strengthen, and deepen the relationship between both organizations for improved Nigerian Content compliance and development.
It was equally agreed that any issue that goes beyond the authority of the TWG will be escalated to the respective executive management with recommendations for their consideration.