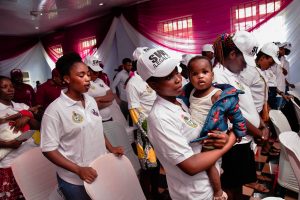 As part of its support for its host state, the Nigerian Content Development and Monitoring Board (NCDMB) has sponsoreda three-month training programme for 20 teenage mothers in Bayelsa State on various vocational skills, includinghairdressing, fashion designing, catering, and make-up.
The training is being held at the Bayelsa State Institute of Tourism and Hospitality (BSITH) in Yenagoa, Bayelsa Stateand was conceived as a collaboration between the Stand-up for Women Society (SWS) and NYSC Legal Aid Community Development Service (CDS).
Speaking at the kick-off ceremony, the Executive Secretary, NCDMB, Engr. Simbi Kesiye Wabote, represented by the Deputy Manager, Capacity Building Division, Mr. TimbiriAugustine disclosed that the training will empower the beneficiaries to become skilled entrepreneurs and service providers.
He noted that paid employment opportunities have become limited in Nigeria but entrepreneurship window is open for everyone. He added: "There are only two ways to generate income, either as a service provider or producer. The Board attaches so much importance to training and human capital development and we expect maximum commitment".
In his welcome address, the Rector of the Institute of Tourism and Hospitality, Prof. Apuegba Arikawei commended the Board for its continuous support to the institute and for sponsoring trainings that will not only build local capacitiesbut also reduce youth restiveness in the state.
He assured that the institute will ensure effective and efficientdelivery of the training, create entrepreneurs and reduce crime, poverty, and other social vices bedeviling the Niger Delta.
The Chairperson, Standup for Women Society, Bayelsa State chapter, Ms. Eunice Nnachi in her goodwill messagedisclosed that the training is geared towards social integration and providing the needed aid to support teenage mothers. She mentioned that the training is a springboard for other opportunities for more young women in the state.
Also speaking, the NYSC Legal Aid spokesperson, Ms. Esther Ojum hinted that the trainees will also be provided with legal information and support.