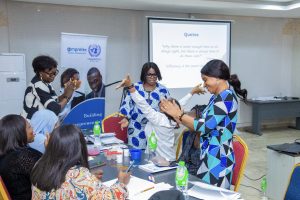 The Nigerian Content Development and Monitoring Board (NCDMB) has trained a segment of Women Business Leaders and Entrepreneurs on Entrepreneurial Development under the aegis of Women in Oil and Gas. The training which was held in Port Harcourt, ran for two weeks with two streams of trainees at the exercise.
Enumerating the significance of the training at the close-out ceremony, the Manager, Human Capital Development of the Capacity Building Division of the Board, Mrs. Angela Okoro pointed that Board's collaboration with the training company, Empretec Foundation was in meeting the needs of female entrepreneurs in building a good enterprise foundation and corporate governance for their businesses.
Mrs. Okoro added that the training also came at a time where through the Diversity Sectorial Working Group of the NCCF, women were given a right of place in the oil and gas industry in the light of their contribution to the family unit and the society at large, as the Executive Secretary, Engr. Simbi Wabote is keen on human capacity development for women.

The training which was in two tranches over a two-week period, had over seventy participants in attendance.Participants were taught the essentials of running a business, business sustainability, goal setting, budgeting, inventory control management, governance and how to write a business plan.
During the exercise, participants were treated to an excursion to service companies run by women in the oil and gas industry to see first-hand how the female chief executives run their affairs.
In one of the visits, the Managing Director of Ansett Group, Mrs. Edith Akwaeke encouraged participants to put in the work and be dogged in their quest to deliver quality service as that is what will stand them out in the industry. Mrs. Akwaekecharged the participants not to see themselves as bosses but solution providers and bring their expertise to bear.
The Managing Director stated that Ansett Group is a Project 100 company, with a mum-and-pop formation tailored after the Schlumberger brothers as they hope to be a world class company someday. She enjoined participants not to let gender imbalance be a reason for them to relent but should be visionary and strive for excellence.